---
18. IRA MARLOWE: CARTOONS
(Ira Marlowe)
Jesus and Mohammed walk into a bar
and I've already gone too far
The Prophet says, "What is this place?"
while Satan makes a kissy face
I've already gone too far
John the Baptist, shootin' pool
Says, "Boy, you getter play it cool!"
I say "Man, it's just a stupid song..."
Lemme go too far, too fast, too much, too soon
Damn it all we're all cartoons
Big-headed fools, makin' up rules
when we ain't got a clue
Buddha keeps it simple
sips his Shirley Temple
While Mother Mary starts to find her groove
Wrecking Ball is playing, so Shiva starts to swaying
now they're making out like some girls do
And the Furies fly around me
while the twelve apostles pound me
and I scream between my black and my blue:
Lemme go too far, too fast, too much, too soon
Damn it all we're all cartoons
Big-headed clods, makin' up gods
then we tell 'em what to do

And I tell mine
Please, be patient and kind
with this silly thing you made called Man
We're all doin' the best we can...
Losing my patience, on the road to salvation
'cause I've already gone too far
Enlightened ones can't wake me
and the cults won't even take me
'cause I've already gone too far
Lost, lost, I ain't lost
I'm flyin' with my fingers crossed
I'm dancin' with the tempest-tossed
We'll tumble 'til they turn it off
we're slippin' 'round the serpentine
with Underdog and Augustine
I've never seen a world above
the only God I've ever seen is
Love
Love
Love
Love
Lemme go too far, too fast, too much, too soon
damn it all we're all cartoons
damn it all we're all cartoons
Moses and Krishna
Hanging in the Mission
Looking for the best burrito in town
Mary Baker Eddy
got a big placebo ready
and prays to keep the damn thing down
And Mighty Thor just drains the keg
while Pluto works on Satan's leg
I can't hear what Confucious said
just give us please our daily bread
Love
Love
Love
Love
© 2015 Slow Reveal Music (BMI)
Recorded and produced by Ira Marlowe at Monkey House Recording
Ira Marlowe: Guitars, keyboards, bass, vocals, programming, effects.
___________________________________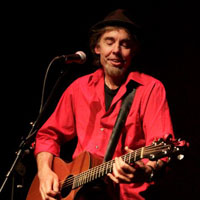 IRA MARLOWE:
Ira Marlowe's songs have been described as "four-minute movies", known for their lyrical wit and emotional impact. Marlowe grew up listening to his parents' jazz and showtunes, then experienced a high school conversion from folkie to rocker. At eighteen he joined his first band and started penning songs that landed somewhere between Daltrey and Townsend and Lerner and Loewe. While the label "folk-rock" is a useful description, his writing swings from funny to sad to poignant to political--often within a single song. Marlowe's range as a writer and the sheer entertainment value of his shows make him a delight to audiences wherever he goes. www.iramarlowe.com
Burnt out after a series of fizzled major-label record deals, he was approached at a gig in 2005 by the director of The Learning Company, the world's largest producer of education software for kids. Hired on the spot to write a series of songs for their new release, Marlowe took an anything-goes approach to his task and started having fun again. Soon after, he founded his own BrainyTunes label for kids. www.brainytunes.com
In 2012 Marlowe opened The Monkey House, an intimate Berkeley home for songwriters, comedians, storytellers, and other thoughtful and entertaining performers. While he has always loved performing in cafes, in conceiving his own venue he added some some elements usually missing from the that curcuit: a stage, a sound system, lights, even a black velvet curtain. He wanted a room that felt more like...show biz. Behind the curtain he build a cozy pro quality recording studio. www.themonkeyhouse.org
In 2014, Marlowe was named composer/lyricist for the Tony award-winning San Francisco Mime Troupe, a political theater company, founded in 1959, that is anything but silent. He's now penned the songs for two acclaimed productions: RIpple Effect and Freedmomland.
When Marlowe was fourteen, his father scoffed at his plans for a career in music. "Son," he cautioned, "many are called, but few are chosen." Now, after twenty plus years in the business, after strolling with his guitar between the tables of a Howard Johnson's, after singing at a circumcision, after being spit at by a spoiled-rotten four-year-old, he's finds, to his great surprise, that he's more excited about music than ever before. These days he's no longer that concerned with being chosen. He knows he's lucky to still feel called.