---
6. GAYLE LYNN & THE HIRED HANDS: RODEO QUEEN
(Gayle Lynn Schmitt)
Remember me I was the rodeo queen
Remember me I was the prettiest girl
Remember me, rodeo queen, rodeo queen
I've got two kids, 12 and 13
They don't even care there Mamma once was a queen
They keep asking where their Daddy is
I know but I'm not telling them
How I love this town I'm from
When the sky is blue or the dust starts mixing
in the setting golden sun
That's one thing God decided not to change
Leaves the colors all the same
You know girls who turn in to women with no place
Once a few lines cross their sweet sunny face
You know boys though they turn in to men
They keep playing, they keep on playing
In their big shiny trucks cowboys ride hide
I know deep down I wanna be by one of their sides
That's a story I tried, that's a story I tried
I'm through with crying, I'm not gonna cry
How I love this town I'm from
When the sky is blue or the dust is mixing
in the setting golden sun
That's one thing God decided not to change
Leaves those colors all the same
Remember me I was the rodeo queen
Remember me I was the prettiest girl at 17
Or was it just a dream rodeo queen, rodeo queen
©2008 JG Productions (BMI)
Recorded by Tom Meshishnek Moe's Studio, San Francisco
Mixed by Michael Winger
Mastered by Michael Romanowski
Produced by Tom Drohan
Gayle Lynn Schmitt – vocals, rhythm guitar
Rik Elswit – lead guitar
Mike Roper – vocals, harmonica
Tom Drohan – upright bass
Corey Losee – drums
__________________________________________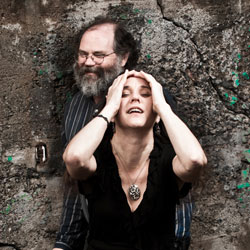 GAYLE LYNN:
Born and raised by the banks of the Ohio River in Louisville, Kentucky, Gayle Lynn got her first guitar as she headed off to college. After moving to San Francisco, she began playing in songwriting nights at cafes, meeting many friends who would eventually evolve into the Hired Hands. Together with Miriam Engelberg she wrote and performed in the play "Spit Out Your Gun, It's School Policy" - a comedy which told the saga of the life of being a teacher - featuring songs from her first album "Just About To Bloom."
While writing and creating theater pieces, Gayle Lynn started her own music/movement program focusing on children's music. With her group, the Toodala Ramblers, who play bluegrass music for kids and families, she recorded two award winning children's CD's before returning to her songwriting and gathering a band.
These days she is mostly backed by the not-easily - defined sound created with her band The Hired Hands. The Hired Hands give her music that "just right" twang-y touch of country that makes you feel at home – whether you're dancing to a roadhouse jukebox, laughing in your hat or crying in your beer . Her writing feels deeply personal at first yet she has the knack to draw you in, each song taking on a broader perspective and becoming a situation we've all heard of, a hardship we've all felt, and by the end of the song you're wondering if she's singing about you. Commenting on their first CD Just Came Around reviewer Brenda Hough says: "Gayle's songs are like a fine Kentucky bourbon—smooth going down with a little kick at the end to make sure you didn't miss one of life's truths."
Her song "Rodeo Queen" from Just Came Around has been featured twice on the TV show True Blood. "Back Home" is a new track awaiting a spot on their upcoming CD
The Hired Hands:
Tom "low man" Drohan – stand up bass
San Francisco bassist-about-town, Tom has played extensively with the Chazz Cats, the Shut Ins, Belle Monroe and Her Brewglass Boys, and has performed/recorded with an uncountable number of local singer songwriters – even a few folks on this collection(!), as well as playing on every one of Gayle's projects. He is never home.
Rik Elswit – lead guitar
Rik is a singer, songwriter, clergyman, raconteur, writer, teacher, purveyor of fine musical instruments, three-time loser on The Dating Game, holder of the record for number of consecutive freshman years at USC, and arguably the best slide guitarist in Pacific Heights. He's a former member of Dr. Hook and hosts their band conference on the Well. He's so cool he doesn't even need a nickname.
Corey "Pockets" Losee - drums
Ace drummer for the Shut-Ins, Corey has played with the Riff Riders, David Gans, High Diving Horses, The Chazz Cats, The Night Watchmen, and The Sons of Emperor Norton to name a few. Not only does he keep us in time during the songs but plays a huge role in the arrangement of the tunes. He is the ultimate host at our rehearsals in his Mill Valley studio – always providing cool lighting, beverages, snacks and an "everything's going to be alright" attitude.
Jon "Machete" Mitgaurd – pedal steel, dobro, harmonica, backing vocals
Jon is lead pedal steel man for not only The Hired Hands but also the Danny Click and the Hell Yeahs and the classic country singing duo of Stadler Gibbons Band. Jon has an ongoing collaboration with Mandolinist extraordinaire Dana Rath where they perform their original songs and instrumentals. Jon's playing adds a distinct richness to the H.Hands sound – it's like buttah!
Jeanine "Jingles" Richardson – tambourine, shakers, basic rhythm genius, stage outfit coordinator
Jeanine toured for years with San Francisco's Zasu Pitts Memorial Orchestra and legendary party band Big Bang Beat! The Hands met J at a gig in a sandwich shop in North Beach where she happened to have a tambourine with her and joined in = well the rest is history. A perfect sprinkling of extra rhythm + finally! some style for our stage presence!
Gayle Lynn on the Hired Hands: "I don't know how this happened. A bunch of awesome musicians playing on my tunes and making them sound so beautiful. Plus these folks are my freinds, even more they are like family to me. What I know for sure is when we play a gig we have fun, we feel joy, we're happy to be together – I guess you could say we like each other – what more could I ask for!"
Sending out a special thanks to Tom Meshishnek for first coming up to me at an open mic and letting me know he enjoyed my tunes….and then introducing me to many musical friends. Also to Maurice for inviting me to be on this collection and singing a duo or two with me every now and then.
Gayle Lynn photo by Mike Melnyk