---
10. GEORGE KINCHELOE: GONE
(George Kincheloe)
Two hundred years and more of people farming in this valley
Rising up each day before the morning sun
Calico and gingham twirling to a fiddle tune
In celebration when the harvest time had come
Well we made it through the hard times but brother they never hit this hard
Will our memories soon be fading from our sight
One short generation has seen us driven from these farms
Feels like it happened over night
And now it's gone it's gone it's gone
Like a river run to ground by the turning of the seasons
Like some lover leaving town
In a heartache song
It's gone away and it's gone to stay
It's gone it's gone it's gone
Gone gone gone
Forty six years ago they shot Jack down in Dallas
When the watchman left his post beside the door
They hired killers and blamed it on some poor sad man
And then the generals took us marching off to war
We'd all sit down by the fire back then and they'd wait on Poppa's story
And I raised them to avoid the heedless fight
And then the soldiers come down Main Street in their powder and their glory
And he said 'Father I just know I'll be alright'
But now he's gone……
Now the band had this new singer
She was up from Kingston
And they sang 'I'll take you home again Kathleen'
Now I'm outside this fancy restaurant that's standing where those dancers did
Please someone wake me up from this
And tell me I've been dreaming
They say that the springtime rain is bringing poison to our woods
And we dare not turn this water into wine
And the fat man on the radio says we never had it quite this good
But most folks down here would swear that fool was lying
People gonna' take from these mountains
People gonna' take from the seas
I guess that people are always gonna' take from one another
But they're never gonna' get your smile away from me
Even though it's gone……
© Hooray For Crafton Publishing (ASCAP)
Produced by George Kincheloe and Marty Atkinson
Mastered by Rainer Gembalczyk at Sienna Digital
George Kincheloe: guitar, vocals
Marty Atkinson: guitar, banjo, harmony vocals
James Atkinson: lead acoustic guitar
Lisa Atkinson: harmonica
Scott Beynon: bass
Bram Kincheloe: drums/percussion, harmony vocals
__________________________________________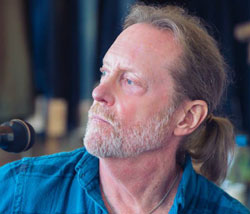 GEORGE KINCHELOE:
In 1973, on the advice of legendary country rock singer Gram Parsons, George Kincheloe left Boston and brought his singing/songwriting skills to L.A. While there he worked in studio and on stage with such talents as Loggins and Messina, Gene Clark (Byrds), Al Kooper, Andy Kuhlberg (Blues Project, Seatrain), and Al Stewart.

George has been leader and lead vocalist for two popular Northern California bands, Boardinghouse Reach and Hooligan (Nu Motion Records) and has appeared in concert with Dave Mason, The Doobie Brothers, New Riders of the Purple Sage, Elvin Bishop, Norton Buffalo, and Marty Balin.

As Boardinghouse Reach prospered on the local scene, they were joined by Marty's older brother James Atkinson—a veteran of Ronnie Hawkin's Band, Kinky Friedman's recordings, and performing and songwriting projects with Rick Danko of The Band. After George and his twin brother John (and eventually Jimmy Atkinson) got over masquerading as country music stars (in the Prairie Dogs, of Brisbane's 23 Club) they formed Hooligan with British guitar wizard Cedric Curtis.
George found Lisa Atkinson while searching for a new vocal partner to sweeten the sound of his first solo release, Painted Dragon, in 1992. Together they made a duo album, Simple as That, in 2002. Sadly, Lisa passed away in 2009 during the making of Better Days. George currently performs with Atkinson Kincheloe Beynon & Cefalu.