---
7. TEJA GERKEN: 5927 CALIFORNIA STREET
(Teja Gerken)
A solo fingerstyle guitar tune inspired by a several-year-long run of hosting a guitar showcase at San Francisco's Bazaar Café. Although the final version bears little resemblance to it, the initial spark for this tune came from a composition by San Francisco-based Irish fiddler Colm ó Riain. As it is, the tune is based on several variations on three main themes, with the A-section playing off a call-and-response type motif between the bass and the treble voices. I play the tune in DADGAD tuning with a capo at the second fret. The guitar on the recording is a 2004 Martin Custom Shop OM. I have Music/TAB available for this piece, so anyone who wants to learn it should hit me up!
© 2005 Teja Gerken Music (BMI)
__________________________________________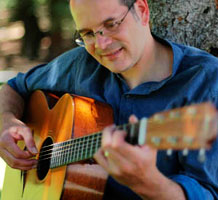 TEJA GERKEN:
Teja Gerken (www.tejagerken.com) is no stranger to fans of contemporary steel-string fingerstyle guitar. Weaving together influences of folk, jazz, classical, and world music, he is primarily a solo instrumentalist, whose two albums, On My Way, and Postcards, have received widespread acclaim. Teja has been a frequent performer in the Bay Area and beyond for more than 20 years.
Teja's playing reflects his diverse musical interests. While many of his composition employ alternate tunings, two-handed tapping, percussive effects, and other extended guitar techniques, others simply rely on his keen sense of melody and movement. Within this framework, Teja has created a repertoire that appeals to fellow guitarists as well as to listening audiences, and while original material is his main focus, he can also be found playing Irish traditionals, the occasional jazz standard, or improvising on themes by classical composers.
Teja has shared the stage with guitar visionaries such as John Renbourn, Alex de Grassi, Peter Finger, and Henry Kaiser, as well as with his mentors, Duck Baker and Peppino D'Agostino. He has been a featured guest at the International Guitar Night, as well as on radio stations such as San Francisco's KALW and KUSF, and Berkeley's KPFA.
Besides performing and recording, Teja writes about music and guitar-related subjects. He was an editor at Acoustic Guitar magazine from 1997 to 2013, frequently contributes to titles including Guitar Player, Premier Guitar, Fretboard Journal, In Tune, Akustik Gitarre (Germany) and Gitarre & Bass (Germany). He recently authored The Taylor Guitar Book, which is due to be published by Backbeat Books in the fall of 2015. Teja is also a co-founder of the online roots-music e-learning website Peghead Nation (www.pegheadnation.com).
Web: www.tejagerken.com
YouTube: www.youtube.com/tejaguitar
CD Baby: http://www.cdbaby.com/cd/teja2
Facebook: www.facebook.com/Teja-Gerken-Music-91919969059