---
4. AMY OBENSKI & THE CARBONE BAND: SOME KINDA CHANGE
(Amy Obenski)
I've found many times that I'm still here
and I've been down that road many times
and I'm still near a conclusion
And that's fine for the rest of me
but as for the best of me, well
It's still waiting there…
…for some kinda change to come
for some kinda change to come and set me free
for some kinda change to come, oh honey please
I rise many times but I still fear
And I've changed my mind then I find
my heart still unclear
And I know my life has been kind
It's blown my mind many times
then I find myself waiting there
© Amy Obenski Publishing, (ASCAP)
Produced and Mixed by Amy Obenski
Previously released on the album, Restless, by Amy Obenski & The Carbone Band
Performed as Amy Obenski & The Carbone Band
with Amy Obenski (voice, piano) Philippe Crochet (guitar), Josselin Sebille (bass) and Mourad Aït Abdelmalek (drums)

__________________________________________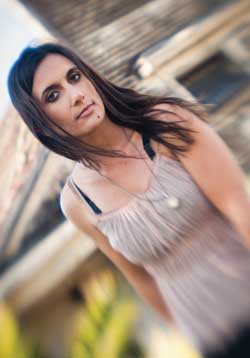 AMY OBENSKI:
With a stark and honest intensity, Amy Obenski's rich, crystalline voice cuts through the noise of every day life. She's a California native. Raised in San Diego and now based in San Francisco, the sound of the far west is unmistakably infused into her words and sound. She's toured the U.S. and France and even got her song "Carousel" onto the TV Show, Grey's Anatomy.
You can catch her perform in a variety of formats: solo, duo or with a full band. Her newest project however is using a looper where she plays solo but can double up on her own music to create the sound of a full band plus a small choir.
Amy's fifth album was released in 2014. This album, entitled Restless, was a collaboration between her and a trio of French musicians named The Carbone Band. Between 2011 and 2013 Amy travelled to France three times to play and tour with them which eventually led to the recording of Restless and a month long Artist in Residence at La Maison des Arts in Saint Herblain. The music was a collision of Amy's free "California girl" sound and the French's deep passion and intensity.

Restless features the distinctive sound of The Carbone Band and also a string ensemble of students and associates of La Maison des Arts. The Carbone Band is comprised of Philippe Crochet on guitar, Josselin Sebille on bass and Mourad Aït Abdelmalek on the drums.
Amy's musical history stretches back to age five, when she began singing in her school choir. She took up piano at age six and has been studying music ever since. She finally picked up the guitar when she began songwriting at twenty-two.
In Santa Cruz, California, she supported local organizations through a series of benefit concerts called Take Back Your Forest. Collectively they raised six thousand dollars for the Sempervirens Fund, an organization that purchases and protects redwood forest in the Santa Cruz Mountains. She continues to support these types of organizations as much as possible. In 2012, her Carbon Conscious Tour raised awareness about the burning of rainforest in South America and the affects on climate change.