---
5. BETH MARLIN: HOG FARMER'S WIFE
(Beth Marlin)
I could have been a hog farmer's wife,
tending a farm, it's a beautiful life
Up before dawn, in bed before seven,
grow a little corn on a little piece of Heaven
Oh, I could have been a hog farmer's wife,
tending a farm, it's a beautiful life
Pork chops for breakfast, bacon for dinner,
always wishin' to be a little bit thinner
Baby and dog on the kitchen floor,
how could a girl want for anything more?
Oh, I could have been a hog farmer's wife,
tending a farm, it's a beautiful life.
I'd have me a porch built just for rockin',
with big wooden chairs for when the neighbors come a knockin'
Takin' care of each other through thick and through thin,
a hog farmer's wife is what I could have been.
Oh, I could have been a hog farmer's wife,
tending a farm, it's a beautiful life. Suey!
© Bethie's Music (ASCAP)
Produced by Jon Baker
From album, Blackbird released in 2014
__________________________________________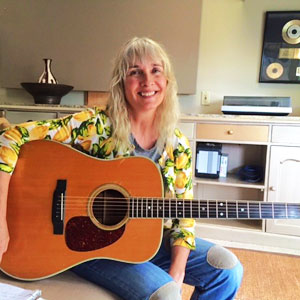 BETH MARLIN:
The heart of my music life has always been the writing. My first song, at age 11, was composed for my grandfather, and I'm still at it. If writing is the heart, working in the studio with my longtime friend and producer, Jon Baker, is the joyous culmination of the creative process. We have recorded 6 albums together and won many awards in the children's music business, including Parents' Choice Gold and Silver.
I'm honored to be a part of this Songs From The Fog project, with my contribution of tracks recorded in L.A. with Jon at the helm and playing bass. Guitarist James Harrah, composer Tim Heintz, violinist Charlie Bisharat, drummer Scott Wild, and guitarist Gary Zellerbach are all major contributors in my work. The two songs in this compilation are from my recently released album, "Blackbird". Cheers from foggy San Francisco!